Bo tak jest, ten scenariusz, jego pomysły, tematy, nic się nie trzyma kupy, zachowanie bohaterów jest niekonsekwentne, a ich cele i działania nie mają sensu.
Johnson zmienił wszystko, nawet osobowości postaci względem oryginałów czy nawet The Force Awakens tylko po to by przeforsować swoje pomysły, między innymi temat przewodni filmu czyli "porażkę" którą odnoszą wszyscy główni bohaterowie.
Co ciekawe Johnson upojony swoim geniuszem i bystrością umysłu, poszedł o krok dalej i wplótł w fabule filmu wiele "meta" treści odnosząc się między innymi do krytyki poprzedniego epizodu, czy też oczekiwań widowni, tym bardziej to śmieszne, że ostatecznie sama produkcja okazała się porażką jak motyw na którym oparł swoją historię Johnson.
Można by rzec, że...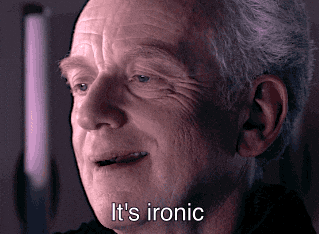 EDIT:
Gdy Rian Johnson wejdzie za mocno:
12-12-2019, 11:49